Funding guideline "Innovative Air Mobility"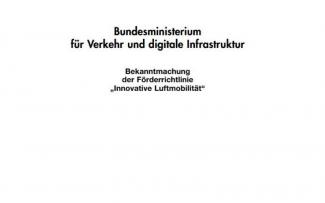 The transport sector is facing a variety of challenges. The existing transport infrastructures are increasingly reaching their limits. Congestion and emissions need to be reduced and the networking of transport modes, of individual and public mobility in cities and rural areas needs to be improved. Digitalisation offers great opportunities to help overcome the transport challenges and the associated ecological challenges. Therefore, the Federal Government has set itself the goal of using digitalisation to design intelligent, efficient and clean mobility.
The digitisation-driven rise of unmanned aircraft systems (UAS) opens up a multitude of new application perspectives that improve our lives and make an important contribution to the mobility of the future. Whether in logistics, for security tasks, medical transport or the monitoring of infrastructure through to traffic control - the increasing performance of the technology will make new applications and services possible in the future. Individual air mobility solutions such as air taxis should also find their place in the multimodal mobility mix of tomorrow and are covered by this funding guideline.
In order for UAS to fully develop their potential for the mobility of the future, technological development is required above all, in addition to the creation and adaptation of the legal framework. In its 2020 "Action Plan for Unmanned Aerial Systems and Innovative Aviation Concepts", the German government has therefore defined as a measure to continue and expand research funding in the existing programmes of the federal ministries with a view to UAS and air taxis as well as to support new applications in the medium term. This funding guideline is limited until 31 December 2023.
The "Innovative Air Mobility" funding guideline serves to implement this measure and consistently continues the work of the call for ideas and funding on the topic of unmanned aerial applications and individual air mobility solutions, which was conducted for the first time in 2019 by the Federal Ministry of Transport and Digital Infrastructure (BMVI). Its aim is to support the technological development of UAS in order to achieve the fastest possible application in practice. Funding priorities are the overarching policy fields of urban air mobility, rural connectivity and public acceptance.
Detailed information on the funding guidelines can be found here.
Source: Press release